Roly Hermans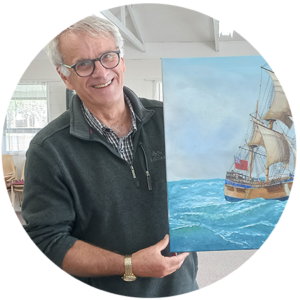 Art has always been an interest for Roly, but life's demands never allowed him the time to indulge in it as much as he would have liked. But with his retirement at the end of 2021, the perfect opportunity to explore the world of painting had finally arrived.
As an artist, Roly sees himself as an illustrator, someone who strives to capture the essence of a moment in history with dramatic flair and colour.
Although he started with landscapes, it was depicting the man-made objects within these scenes that really captivated him. Painting the vintage ships and planes that some of his family had piloted or skippered over the years enthused Roly to specialise in historical and transport subjects.
Half the joy of painting for Roly is the historical research required, as he delves into the nuances of the past and strives to bring it to life on canvas as realistically as possible. He revels in the challenge of recreating a fleeting moment, infusing it with emotion and depth to create a work of art that transports the viewer to another time and place.
Roly uses acrylics as his primary medium, but also uses liquid inks and washes for intricate details - a technique he picked up from his other hobby of model-making. Through this combination, he is able to create a realistic layered effect, bringing an added depth to each piece he creates.
Showing 1–24 of 25 results
Showing 1–24 of 25 results