Rebecca Mathews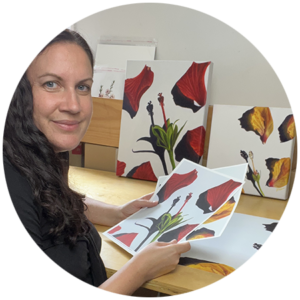 Rebecca Mathews is an artist based in Papamoa working primarily in oils. She paints in layers, which enables her to build rich colours and detail over time. Rebecca has a huge passion for botanicals and loves showcasing them in her pieces.
Authenticity Collection Summation
As I stripped back the petals of the Hibiscus flower, a hidden beauty was revealed. Human nature is not too dissimilar. When we are open, the intricacies and beauty of our nature come to light. The shadows are the parts we would rather keep hidden but are required to come face to face with to be authentic (look close, and you may even see a face or two). The white space gives a sense of vulnerability, which is present when we reveal our true selves.