Kirsten McIntosh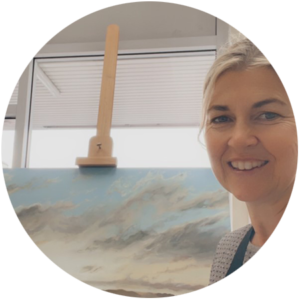 I'm an artist based in Cambridge, New Zealand. After travelling extensively through Europe, Canada, the Middle East and South-East Asia, I returned to my hometown of Cambridge in New Zealand.
One day, I hope to develop a series of landscape paintings that records my travels. For instance all of my photos of Venice, Prague. Morocco and moreFor the time being, I find no lack of inspiration here in beautiful New Zealand.
MY INSPIRATION:
A walk with my family or a short drive yields special scenes to be photographed and brought back to my home studio. I see opportunities for landscape painting all around me. "The roadside grasses, the clouds and the late afternoon sun. I enjoy the challenge of capturing the reflections of rocks and clouds in the water and especially the clouds. "Every painting I do, I look for a challenge. This helps me to develop my techniques."Certainly in aiming to tie my works together and establish a consistent style, I work with a limited colour palette. Such as, representing our New Zealand Landscape I use only a few rich colours.
MY STYLE:
Oil painting I find to be lovely to paint with. However, I have painted quite a bit in Acrylic and enjoy both mediums. In my experience it depends on the amount of detail in the scene as to whether I should paint the painting in oil or acrylic and how much time I have to dry the layers. Currently my style is hyperrealistic and it is my aim to paint the scene as it is. In time I hope to additionally work on portraiture. I think my personality requires a more formal and structured style of art. One of my inspirations is the works of Klimt and I do love a touch of gold, so I always add a touch of gold in my signature. Additionally, as a point of difference, I tend to work in circular or square canvas shapes as for me, I think they usually fit nicely in a space.