Hiriwā Digital Art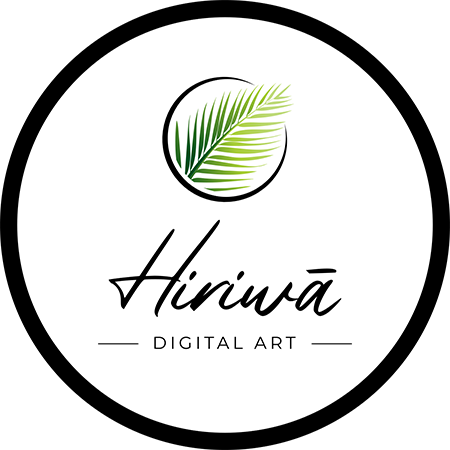 Our Work
We create photorealistic black and white digital artwork inspired by the flora and fauna of New Zealand and Australia that we hope the many different people who call Aotearoa home can all share and enjoy. Additional designs featuring full-colour landscapes and collaborative works are also available.
Our Origins
Hiriwā Digital Art was born out of a desire to find a way to help struggling small businesses during the lockdown. The key foundations upon which we decided to base these efforts included a commitment to sustainable practices, locally-sourced materials, collaborations with like-minded eco-conscious businesses, raising awareness for New Zealand's native species, and embracing te reo Māori.The inspiration for the name of our business comes from the Māori word hiriwā, "silver," in reference to the black and white artwork we create. It is also an homage to the iconic silver fern that so often represents New Zealand, as well as the beautiful language of New Zealand's indigenous Māori culture.
Our Purpose
We make no personal profit from the sale of our artwork. All proceeds from sales directly support small Kiwi businesses as originally intended, and contribute to monthly donations made on behalf of our small business to the Maungatautari Ecological Island Reserve to support one of New Zealand's most important and ambitious conservation projects. We also make donations to fund the planting of native trees through the "Trees That Count" conservation charity.Ensuring our small business is plastic-free and environmentally friendly is as important to us as the quality of our work. The ability to support the environment, not only through sustainable and eco-friendly business practices but in donating to conservation causes (Maungatautari and Trees That Count), has been one of the most unexpected and rewarding outcomes of this undertaking. We have a deep respect and reverence for nature that we aim to convey through our work and are grateful that this pursuit has provided the means and opportunity to contribute to conservation efforts directly. Your support of our small business makes this possible; we could not do this without you!The response to our work has been truly heart-warming, and the kind words we received have, in turn, motivated the creation of many additional pieces. Over time, we expanded our range of products and services to include paper goods and pet portraits alongside our framed prints, fine art, and home decor. We look forward to continually growing and learning alongside our small business and supporting the environment in the process
—
Thank you for taking the time to read our little bio! If you have any questions, please feel free to ask.
Showing 1–12 of 18 results
Showing 1–12 of 18 results