Mark Dyer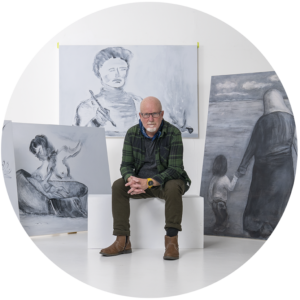 Mark Dyer is an artist based in Titirangi, Auckland with a Bachelor's degree in Theology and a Certificate in Fine Arts from the Manukau Institute of Technology.
Dyer was born in Auckland in 1962 with congenital heart disease and termed a 'blue baby'. Having pioneering heart surgery at six years old, a near-death experience, and going through his schooling years dyslexic have significantly impacted his life, experiences which also shape and fuel his creative practice.
Living in Titirangi, Dyer is influenced by artist Colin McMahon's work, who was inspired by the same region during an important period in his career. Among others, Dyer is also influenced by the emotive gestural abstraction of expat New Zealand artist Max Gimblett.
Dyer's first art exhibition was in 2001 at the Titirangi Art Gallery. His career now spans over three decades and his works are held in private collections around the world.
Dyer is particularly interested in aspects of social justice, history, politics, human behaviour, spirituality and bicultural identity. He states:
"My work is concerned with human survival and considers where humans fit in the chain of being, asking who we are and where we might be going."
No products were found matching your selection.